Issue Digital Credentials
The most comprehensive and connected digital credentialing solution.
Credly by Pearson provides an integrated suite of solutions to transform your organization's digital credentialing program. Whether you're an education or certification provider looking for a trusted digital credentialing platform, or a company looking to increase employee engagement for your learning programs, Credly can support you.
See Credly Acclaim in action for yourself. Complete the form and select a time that suits you to speak to an expert.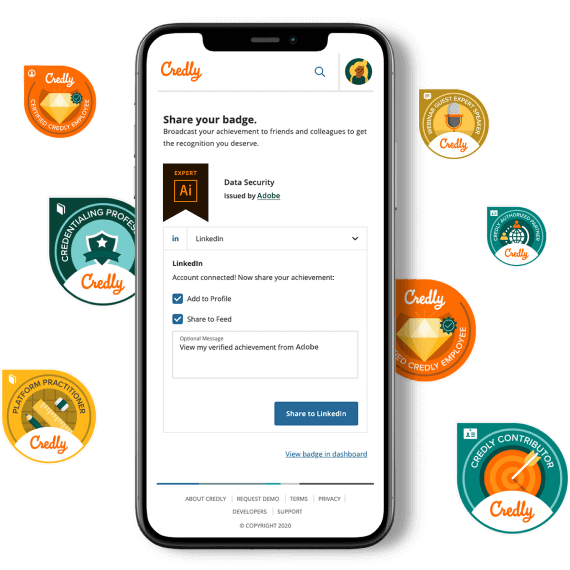 Acclaim
Issuing digital credentials to students or members?
Allows organizations to create, manage and monitor their credentialing, certificate, or badge program from start to finish.


Our comprehensive features to design and issue badges provide enterprise-class functionality to scale your programs and extend your reach.


Enhanced analytics to measure and monitor success, including acceptance rate, shares, and more.


Our multiple ISO certifications provide top-notch security for your product and data.
Workforce
Issuing digital credentials to your workforce?
Allows companies to create, manage and monitor their credentialing, certificate, or badge program from start to finish.


It gives L&D teams the tools they need to increase engagement for their learning programs and create a culture of recognition.


Through personalized profiles, employees have the opportunity to share their verified skills and credentials gained at any stage of their career.


This helps to motivate ongoing learning and development.
Discover
Badge earners join a network visible to your hiring managers, HR, and business leaders.
Network
Credly customers have the benefit of learning from other Credly peers, creating an unmatched network of trusted issuers.
Analytics
Monitor ROI through acceptance rate, shares, views, and your leading influencers on your analytics dashboard.
Success
Our best-in-class customer success team is with you every step of the way.
Empower
Access workforce analytics with skill development insights and learning trends.
Security
Credly is the only digital credentialing platform with three ISO certifications and full GDPR compliance.
Credentials earned and managed
Digital credentials shared every month
NPS (Net Promoter Score) surpasses industry averages